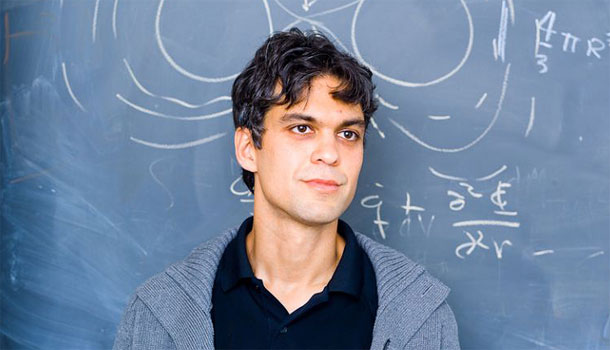 Enrico Ramirez-Ruiz
Astronomy and Astrophysics
Santa Cruz
At some universities, English majors fulfill their science requirement by taking a version of "Physics for Poets." This isn't as whimsical or as easy as it sounds. Physics deals with fundamental ideas about time, space and matter — questions as relevant to poets as they are to mathematicians.
Physicists tend to be polymaths, so it's not entirely surprising that Enrico Ramirez-Ruiz, UC Santa Cruz professor of astronomy and astrophysics, cites the short story "The Library of Babel" by the Argentinian writer Jorge Luis Borges as his inspiration. Borges played with notions of time and space, so it's easy to see the attraction to a budding physicist. And like Borges, Ramirez-Ruiz can fairly be called a wunderkind.
Ramirez-Ruiz uses computer simulations to explore violent phenomena such as stellar explosions, gamma-ray bursts and the accretion of material onto black holes and neutron stars. At 35, Ramirez-Ruiz is the youngest person to be inducted into the Mexican Academy of Sciences. Since joining the UC Santa Cruz faculty in 2007, he has earned numerous awards including a Packard Fellowship and a National Science Foundation CAREER Award.
"Enrico is working on some of the most difficult and interesting and challenging areas in astrophysics," said Neil Gehrels, chief of NASA's Astroparticle Physics Laboratory. "He's already internationally recognized. As a physicist, you have to develop a reputation, get funding and establish a research group at a major university. Enrico has done all these things at breakneck speed."
If the accolades bring to mind a brilliant misfit, a la Russell Crowe in "A Brilliant Mind," think again. Ramirez-Ruiz is entertaining, down-to-earth and thoughtful about the lives of people who are neither physicists nor poets. And, yes, he is rock-star handsome.
More info about the  The University of California Research