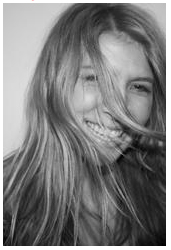 Local installation artist, Amy Boewer was the guest on Gamers on Game for October 10, 2011. Amy is Research Assistant and one of the student Founders of OpenLab at UCSC, and the Resident Artist in the UCSC AstroPhysics Department. She recently graduated from UCSC in the Art and History of Art and Visual Culture Programs. 

Amy came into the KZSC radio station to talk about the current !The Exhibition Art + Astrophysics which features four exhibits illustrating astrophysical phenomena: an interactive Black Hole/Star Bowling Game; a Kepler App for iPad/iPhone; a 3D Zoetrope of Moon-Splat; and an interactive sculpture of Spectral Shifts in the Milky Way. This exhibit will be up on the 3rd floor in the DARC Light Lab until the end of October.
We also talked about Amy's work with recent UCSC Business graduate and student founder of OpenLab, Jack O'Neil, creating the prototype of the Nomad Pad.  Amy is deeply absorbed by the psychological and physical ways our bodies interact with environment. Her primary focus is to create installations and tools that users/viewers' can enter and experience. Jack explores art for solutions through the business and economic lens. The Nomad Pad is a shelter and protection tool for urban explorers. The prototype is currently being tested by San Francisco.