Santa Cruz Sentinel Posted:   05/13/2012 01:30:53 AM PDT

There are a lot of good reasons to attend this year's Maker Faire, May 19-20, in San Mateo. For parents, it may be to expose their kids to inventive minds and encourage an interest in technology or engineering. For the crafty, it may be to learn a new skill, like knitting, coffee roasting or soldering. For inventors, it may be to satisfy a need to share an innovative idea or brainstorm with other makers. But possibly the best reason to attend Maker Faire, is to witness the warm handshake of art and science as they begin to rekindle an old friendship.
OpenLab Network
Jennifer Parker, associate professor at UC Santa Cruz in the Digital Arts and New Media Program, says that art and science have always been linked.
"Every time you're scul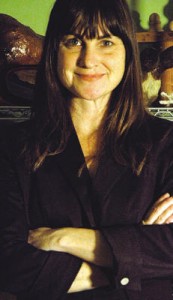 pting, you're being an engineer," she says.
She also believes that art is vital to science, as it can help convey complex concepts to the masses through more accessible 3-D venues, such as apps, games, and exhibits.
"It's much better than explaining on a chalk board," she says.
By leaving arts out of the equation, we won't have very creative engineers. "So there's a movement to bring art back into the process," she says.
In an effort to cross-pollinate the efforts of both artists and scientists, Parker co-founded the OpenLab Network [openlabresearch.com] at UCSC in 2011. OpenLab brings artists and scientists together in the real and virtual worlds with dramatic results. Most recently, they helped to create the Kepler Explorer, a new application for the iPad and iPhone, allowing armchair explorers of the cosmos fingertip access to nearly 2,000 distant planetary systems discovered by NASA's Kepler Mission. Parker and others from the OpenLab Network will be at Marker Faire, showing the Kepler app, a Nintendo Wii Galactic Center Bowling game, and other OpenLab projects.
In a similar way, Maker Faire hopes to expose those outside academia to the exciting possibilities of art and science. At Maker Faire, teens learn to make wood-block prints, next to grandmas learning to pick locks, next to dads learning about kite photography, next to kids spinning 40,000 pounds of stone and steel. Maker Faire is expecting more than 700 maker-exhibitors at the San Mateo Event Center, many of whom will have kits and products to sell. But the vast majority will be enthusiastic amateurs who just want the opportunity to show what they've made and ignite a creative spark in others.
Robot Dance Party
Chris Hirst, an office supervisor in Santa Cruz, says he was honored to be accepted as an exhibitor at the 2012 Maker Faire Bay Area. Hirst first brought his Robot Dance Party [www.robotdanceparty.org] to Burning Man in 2007. The robot, which is actually a rigid costume worn by Hirst, is getting an upgrade for its first appearance at Maker Faire.
Formerly constructed from plywood, a plastic milk crate and four heavy speakers [how would you dance with all that on?], Hirst is seeking to make his robot much lighter with a cardboard and fiberglass body, lighter speakers, and lithium laptop batteries to power the neon el-wire that will pulse in time to the music. Fellow dancers should also be able to select songs they want to hear and sing along with a karaoke playlist.
Hirst has recruited friends to make more robots, so that by the time Burning Man rolls around in September, there will be six robots, all synched on an FM frequency to get a real dance party going. They won't all be ready for Maker Faire, but he's hoping to recruit more robots there.
"That'll be a great place for PR," he said. "I really like the idea of a whole armada of musical robots."
Hirst said that his robot gives him a chance to be someone else: "I love to perform, but I have stage fright. It's a way for me to anonymously perform." As a test run before Burning Man, he made a public appearance last year in Santa Cruz. "I had friends escort me down Pacific and I was just mobbed. It was a good thing I had an escort, because I'm somewhat helpless inside it."
Hirst has attended Maker Faire before as a spectator. "Maker Faire has a lot of my favorite elements from Burning Man," Hirst says. "It has the DIY nature of come and check out how we made it.' And they're not trying to sell you something. It's effortless to learn there because the passion is so thick. It's a place that understands doing a thing for its own sake."
Besides recruiting other Robots, Hirst hopes his robot will serve as creative inspiration to others: "I'm not doing it for the attention. I just want people to enjoy it. And I'd be flattered if they would take [my robot idea] in bold new directions."
Dalek Mutant Vehicle
Cory Soto, who works in protein purification at Santa Cruz Biotech, and his Dalek Mutant Vehicle [originally built for Burning Man] will both be first-timers at this year's Maker Faire. Soto [corysoto.com] recently took a flame effects class offered by the Flux Foundation, whose tongue-in-cheek motto, he says, is "safety third" and hopes his Dalek will be able to [safely] shoot fire in time for Maker Faire. His wood-frame creature is built around a golf cart and large enough to accommodate both him and his wife, Hannah. Soto was introduced to Daleks by his wife's British family, who are avid fans of the fictional extraterrestrial race of mutants from the British science fiction television series "Doctor Who." Soto's creation features controlled neon lighting and can interact with the crowd with a modulated robot-like voice, perfect for uttering "Exterminate!" like his television counterpart.
Soto says a blogger friend suggested he try Maker Faire. He'd heard about the diversity of participants there — as he puts it, "little kids, families, crazies artists, and everything in between" — and wants to meet them. Although he says he's not stressing over it, he's got some serious time constraints since he'll be at a work-related conference for the 10 days leading up to Maker Faire. But he says, "This is the year I've got to go and I've got something to bring and contribute," he says. "I also have some super secret plans. But those won't be ready until Burning Man. It should be epic."
Land Sharks and Electric Butterflies
Todd Williams [www.toddwilliamsdesign.com] says developing neon land sharks was a fluke in his career progression as a painter, carpenter, and artist. "But it's been my most successful piece so far," he says. Williams recently returned from a two-weekend stint at the Coachella Music Festival, where his four land sharks took nightly swims through the shadowy corners of the festival grounds — a performance piece of sorts at the massive desert bacchanalia. "It's all about the interaction of the sharks with the people, and the people with the sharks."
The four sharks — Sparky and Betty, plus the more petite hammerheads, Hammie and Stella — are formed from wire, aluminum screen and neon el-wire, and mounted on remote-controlled toy car chassis. In the dark, the glowing, el-wire, flashes in a sequence that creates the illusion of moving tails, gills and jaws.
Recruited from their Coachella gig, the sharks have been to Maker Faire twice before, where they swim in a darkened exhibit hall, rather than a star-lit desert. Another difference is the kids — who are mostly absent from Burning Man and Coachella — who love interacting with the sharks at Maker Faire. "Sometimes it'll be a rugby scrum with all the kids. It's a lot of chasing, a lot of energy being burned off, and the parents are losing their kids in the dark room," says Williams.
Williams says coming to Maker Faire is about supporting the whole idea of the do-it-yourself revolution. "I put way more hours into Maker Faire for free than I do at Coachella for pay. I'm a big fan of people working on things. When I was a kid, a big hobby shop was like the coolest place in the world," says Williams. He laments the fact that hobby shops don't capture kids' imaginations any longer. "They're not learning any of those cool hands-on-things," he says. He's hoping Maker Faire will turn that trend around.
Williams will also bring his neon butterfly, Daisy, to Maker Faire, who flits above the crowds on a pole, and he hopes to have a flock of butterflies at Burning Man. "It won't be the same as the sharks, but it will be a beautiful thing," he says. He's both surprised and pleased by the direction his art has taken. "They always say there's nothing new under the sun when it comes to art,' but then you make a neon, remote-controlled shark, and people say show me [more]. So in some ways, I kind of feel like I broke through and created a whole new electronic form of a puppet or sculpture or whatever you want to call it."
Tina Baine's DIY column runs monthly in the Sentinel. Contact her at features@santacruzsentinel.com. Visit tinabaine.blogspot.com to see old columns.