MEDIATE opens the floodgates to San Francisco's innovative three-month art and music festival, Soundwave ((6)) Water, its newest festival season, with a a tsunami of live music, innovative art and cutting-edge science that explore our most important natural resource: Water.
As part of the NightLife LIVE monthly music and art series, local indie faves Rogue Wave storms the party with special guest Kacey Johansing on the outdoor East Garden stage. Surf amongst the fish in the deep, dark coral reef with 'DataSurf,' an installation by UCSC DANM Grads and OpenLab affiliated artists Drew Detweiler and Lyes Bellocine, that allows you to interact with a surfboard and your mirrored self in a barrel of swirling visuals projections. Experience 'Submerged Turntables,' artist and UCSC Alumni Evan Holm's sculpture installation performing with sounds from live underwater records in the center Piazza. Interact with 'Oceanic Scales' (http://oceanicscales.com)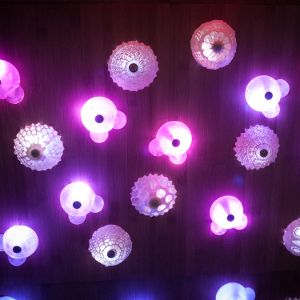 OpenLab artist Gene Felice II's hands-on art & science installation, inspired by phytoplankton, the first link in the oceanic food chain.
Create art prints with artist Travis John's 'Hydroprinting,' a sonographic instrument that measures water currents. Voice your thoughts at 'Speaking Tributaries,' a memory collection booth of the sea; and, play with water-instruments with instrument builder and artist Edward Schocker. The East Garden also features 'IDILIO,' by Gabriel Fontanillo and Leyre Montes, which explores the connections between a sea horse and an anemone, curated by Betty Bigas and projections by All of It Now.