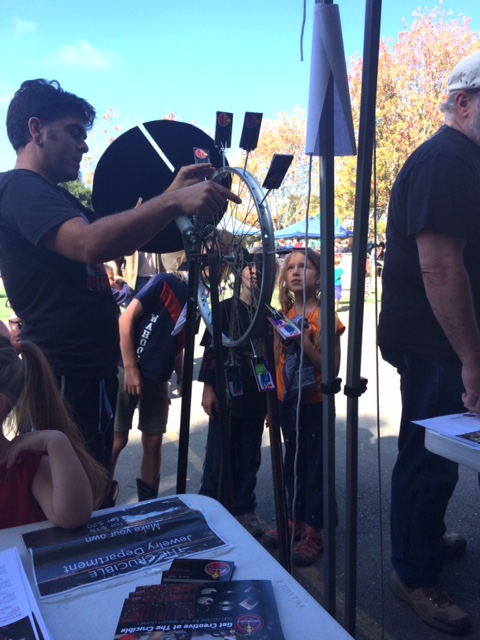 Sudhu Tewari, Sound Artists and UCSC OpenLab Maker at The 5th Annual East Bay Mini Maker Faire in Oakland, CA. 

What happened at the Faire this year?  More than ever!  If you missed your chance to try Cratestacking last year, it was back.  You won't believe Saurabh Narain's Rubik's cube solving robot, or the fun of caged drone combat at Game of Drones.  Five Ton Crane's jaw-dropping art car, The Nautilus. Tons of hands-on making, as is our standard: screen printing at the Swap-O-Rama-Rama, Japanese paper marbling, seed bombs, the Nerdy Derby, tape art with perennial favorite Tapigami, and lots more.
The latest in digital fabrication, with TechShop. OtherMill, TypeA machines, BAAM, and the FLEET digital design & fabrication lab—a repurposed MUNI bus!
Culinary and domestic arts workshops, like minestrone with renowned East Bay chef Kelsie Kerr, and pizza with Pizzaiolo's David Surcamp.  Plus pedal-powered carnival rides, bands, food trucks, bioscience, electronics, art, craft and more more more!
There were over 170 Makers/Presenters/Performers, so check them out here, and then check out the schedule of presentations throughout the day.